Homemade Blueberry Jam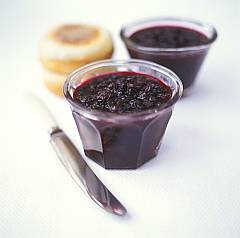 Comments:
Domestically grown cultivated blueberries are on the market from May through September or October. At other times of year, you can sometimes find imported blueberries in stores.
The wild blueberry season is short, and the berries are not shipped much beyond their growing area. If you don't live in wild-blueberry country, look for canned or frozen berries. Take advantage of these tasty and healthy (a great source of antioxidants) berries.
Serve this lovely blueberry jam on scones, waffles, pancakes, biscuits, or toast.
Ingredients:
2 1/2 cups fresh or frozen blueberries
3 cups granulated sugar
1/3 cup orange juice
1 tablespoon lemon juice
1/2 bottle (3 ounces) fruit pectin
Instructions:
Wash blueberries. Measure 2-1/2 cups blueberries into an enamel or stainless steel pan. Crush blueberries in pan. Add sugar and fruit juices. Mix well. Bring to a full rolling boil and boil hard for one minute, stirring constantly. Remove from heat. Stir in fruit pectin. Seal in hot sterilized jars. Refrigerate. Will keep stored in refrigerator for up to 2 months.
Makes:
3 cups or 4 (6 ounce) jars.
Last edited: