I know, I know this recipe might be quite hard to... watch. So I hope you will take a look
after
the iftar, not before.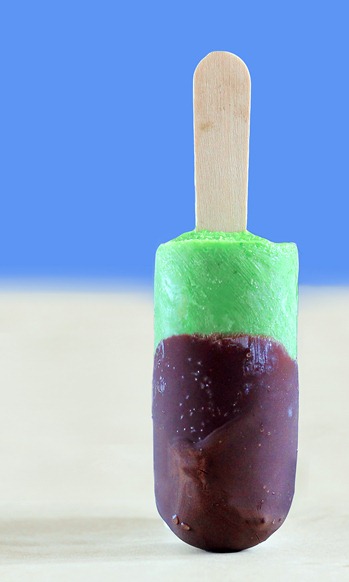 1 cup plain or vanilla yogurt of choice, or 1 cup full-fat
canned
coconut milk
1/16 to 1/4 tsp pure peppermint extract (or more), depending on desired mint strength
1/4 tsp pure vanilla extract
1-3 stevia packets or 1-3 tbsp sugar or liquid sweetener of choice (Sweetener amount will depend on your choice of yogurt, as well as your personal taste preferences. Remember that the pops will be less sweet once frozen.)
scant 1/16 tsp salt
optional:
packed 1/2 cup spinach (20g), or food coloring as desired (The pictured pops have spinach, not food coloring. You cannot taste it at all!)
optional:
handful of chocolate chips or mini chips
If using spinach, blend all ingredients until completely smooth. (If not using spinach, combine all ingredients in a large bowl or pyrex measuring cup.) Pour into popsicle molds, or paper cups with spoons as the sticks. Freeze completely, then pop out and enjoy.
My chocolate chips all wanted desperately to sink to the bottom: To avoid this, you can fill the pops 1/2-way up first and freeze. Then fill the rest of the way. Or…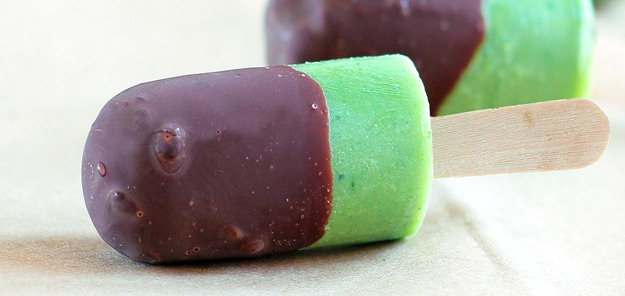 I just gave up and
covered
them in chocolate!
Source:
http://chocolatecoveredkatie.com/2012/06/03/mint-chocolate-chip-fudge-pops/
Tasty moments to you!