Asalaamu Alaykum Wa Rahmatulla Wa Barakatahu

This next dish is a sweet dish, its very easy and quick to make, always comes in handy if you have an unexpected guest :wink:
Semiya...
Ingredients:
Vermicelli - 200 gms
Milk - 4 cups
Condensed Milk - 1/4 cup (optional)
Sugar - 8 tbsp or as needed
Cardamom powder - 1/4 tsp
Ghee - 2 tbsp
Cashew nuts - 1/4 cup
Raisins - 1/4 cup
Lets start cooking...
Method
Heat half a table spoon ghee and fry raisins and cashews and keep it aside. Fry the vermicelli (very thin rice noodles) in the remaining ghee till it is golden brown. Add 4 cups of boiled milk. Keep stirring occasionally. Once the vermicelli becomes soft, add the condensed milk or sugar as needed. Let it simmer. Once its thickned add cardamom powder and stir well. Finally add the fried cashew nuts and raisins.
Your semiya dish is ready and can be served hot or cold.
Enjoy....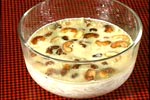 ma'salaama